Sadness was in the air before the concert began as Robert Dilworth took his usual position on stage and announced to those that were unaware he was no longer the President and Chairman of the Dickinson Theatre Organ Society after a good 50 years of an amazing history at this wonderful place. He introduced his successor, Dr. David A. Ruth. Dr. Ruth asked Mary Ann, Bob's wife, to join them on stage as he presented a plaque to Bob for well-deserved service and his new position as President and Chairman Emeritus. Bob will continue being the Master of Ceremonies and a few other jobs he has had to contend with, and that should keep him around us for some time I would expect.
I was relieved by Dr. Ruth as the concert reviewer about a year ago and now with this review, I shall resume that position at least until I can be replaced again. Back in 2012 when I first started this position, Brett Valliant was my second concert reviewee, and his second appearance here. I mentioned in that review that I had heard him before and he gets better every time I hear him, and tonight's concert proved that observation over-and-over again!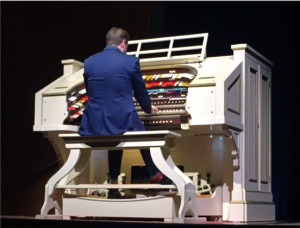 Brett began the program with a long time favorite of mine, Vanessa, written by Bernie Wayne at an unknown date but the earliest version I could uncover was by Hugo Winterhalter in 1952 on his "Great Music Themes of Television" as it was used as such on several 50's TV series. Other music Bernie wrote that you may be more familiar with was "There She Is" the theme song for the Miss America Pageant and his best-known hit was "Blue Velvet" made famous by Bobby Vinton. Brett was starting off bringing back the memories.
Staying in the 50's era, Brett selected a piece from a 1955 teen flick "Blackboard Jungle", the first major rock and roll musical film, a song pinned by Max C. Freedman and James E. Myers, and made famous by Bill Haley and His Comets, Rock Around the Clock.
The next tune Brett said was recorded by Judy Garland, and it was, in 1957. Written by Joe Bishop and Gorden Jenkins in 1933 and recorded then by a very young sounding Bing Crosby, Brett beautifully played tonight the very soulful Blue Prelude.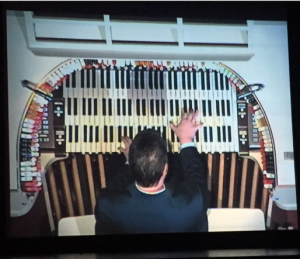 Next Brett puts on his Classical hat, which he loves to wear, to perform a J. S. Bach piece from 1731, Sinfonia to Cantata #29. (We Thank Thee, God). The sinfonia, or the opening movement, (I had to look it up) was originally for an earlier piece "Violin Partita #3 in E", requiring only to change the key.
Returning to the 50's, Brett demonstrated what he called an echo effect, by playing a tune recorded first by Vaughn Monroe and later the same year, 1954, by the Chordettes, Mr. Sandman, composed by Pat Ballard.
Next a shift in gears to Pietro's Return, an accordion march by Pietro Deiro in 1914, followed immediately by a sacred piece, O Divine Redeemer, by Charles Francois Gounod.
Tango Tedesco, by Ernest Gold and Ned Washington, was written for the 1965 movie, "Ship of Fools".  Mario Castelnuovo-Tedesco was an Italian composer, pianist, and writer. He was a foremost guitar composer.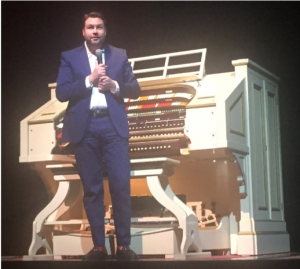 Alan Menken and lyricist Tim Rice team up for the 2017 movie "Beauty and the Beast" and a tune called Evermore. That tune was not in the original Disney movie or the following stage production. Brett worked his magic as he teamed up with our mighty Kimball.
Taking us into intermission Brett played a Tribute to Veterans with a long and impressive medley of various military and patriotic songs.
Brett began the second half with what I would like to call Brett's version of In the Mood.  Glen Miller's arrangement and version was recorded in 1939 topping the charts in 1940 for 13 straight weeks. The tune was sold to Miller in 1939 by an arranger named Joe Garland and was based on pre-existing melodies by Wingy Manone a jazz trumpeter and band leader and added lyrics by Andy Razaf. The melodies by Manone were recorded as far back as1930 through 1935 as "Tar Paper Stomp" and "Hot and Anxious". Garland's version "In the Mood" was recorded by Edgar Hayes and his orchestra in 1938 as the "B" side of the recording of "Star Dust". This is just the way it was, way back when.
Clarinet Polka was next on Brett's list. It was composed sometime in the 1890's but the author is listed as unknown. Still, some Polish sources believe the composer was A. Hupfat in Austria. However, written under the name, "Dziadunio Polka" by Polish composer Karol Namyslowski with several arrangements available including one for the accordion is still out there.
Brett continued with only a break for applause into You Raise Me Up. It was originally composed as an instrumental called "Silent Story" by Irish-Norwegian duo Rolf Loveland and Brendan Graham in December 2001. Sung as a contemporary hymn in church services, it has been recorded by over 100 artists, the most popular version was by Josh Groban recorded in 2007.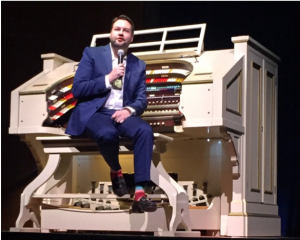 The next piece was introduced as Atlanta G. A. with the only fact that it was played by Lyn Larsen. Couldn't find any info on that one.
Come in From the Rain was beautifully played by Brett as it was sung by Melissa Manchester on her 1976 album "Better Days & Happy Endings". It was written by her and Carole Bayer Sager in 1975.
One of the most famous of all ragtime pieces followed. Composed by Scott Joplin, copyright registered in 1899, and masterfully played by our artist, the Maple Leaf Rag.
Brett really gets to show off his stuff next with one of Charles-Marie Widor's most famous pieces, Toccata in F from Symphony #5.
Over the Rainbow, a song "everyone knows" was written by Harold Arlen and Yip Harburg for the movie "The Wizard of Oz". It was sung by Judy Garland and became her signature song. The introductory verse, ("When all the world is a hopeless jumble…") was not used in the movie and only once in 1948 on a radio broadcast of a Louella Parsons' show did she sing it, wishing to always remain true to her character. It was happily included in this evening's performance.
Changing the mood again, Brett performed Overture to La Gazza Ladra (Thieving Magpie) by Gioachino Rossini and first performed in 1817.
From 1953 comes the lovely Ebb Tide composed by Robert Maxwell with lyricist Carl Sigman and recorded by Frank Chacksfield and his orchestra. The Righteous Brothers 1965 vocal version was the most successful. The first 3 notes are identical to the first 3 notes of the Errol Garner song "Misty" in 1954.
Wrapping up this fabulous concert was Chattanooga Choo Choo, played in the style one might hear on the largest Wurlitzer theatre organ at the Organ Stop Pizza in Mesa, Az.
The encore, following a well- deserved standing ovation, was National Emblem March, written in 1902 and published in 1906 by Edwin Eugene Bagley and became the most famous of all his marches. When John Philip Sousa was once asked to list the three most effective street marches ever written, he listed 2 of his own but selected National Emblem for the 3rd.  The march didn't make Bagley wealthy as he sold the copyright for $25.00.
Not sure just how much better Brett can become, but will be happy to hear him again to see.
---
Ronald Stonehouse
Concert Reviewer