2020-2021:  DTOS' 51st Season
Due to the Coronavirus pandemic and the health concerns for our audience, we are presenting our January and March concerts (without an audience) online. 
March 20, 2021
7 PM     VIRTUAL CONCERT featuring Nathan Avakian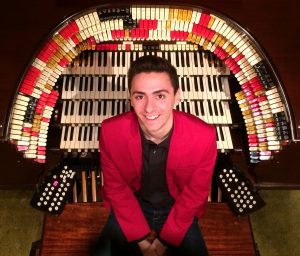 Nathan is a songwriter, film composer, and organist based in New York City. Known for his unique blending of virtual instrument technology with organ music, Nathan's live performances satisfy contemporary musical tastes and pay tribute to the historical legacy of the pipe organ.
Nathan's fascination with the pipe organ began at age four with a visit to the Portland Organ Grinder, a restaurant featuring live pop music played on a massive theatre organ with all of its mechanics exposed. At age eleven he began nine years of private organ studies with Donna Parker, and he was frequently coached by Jonas Nordwall.
Since winning the American Theatre Organ Society Young Organist Competition in 2009, Nathan has provided pipe organ entertainment across the United States and internationally including performances in Australia and New Zealand (2011 and 2017), Canada (2015), and Thailand (2018). He has released several albums featuring theatre and classical pipe organs as well as virtual orchestrations. From 2011-2013 Nathan served as the Youth Representative on the American Theatre Organ Society Board of Directors managing programs that recognize and support the work of young organ students.
As resident organist and composer for the International Youth Silent Film Festival, Nathan creates music that inspires young filmmakers around the world as they reinvent the art of silent film. He helped pioneer the festival's expansion which includes 11 regionals across the United States, Australia, New Zealand, Hungary, Montenegro, and the United Arab Emirates.
Nathan scores historic silent films for Thanhouser Company Film Preservation as well as contemporary films by various filmmakers. His music has recently been featured in web series including Makers Who Inspire (Henry Thong) and The Creative Quarantine Sessions (Alex Whittenberg). Nathan also has a growing collection of piano and organ compositions to his credit including "At The Square," commissioned to commemorate the 150th anniversary of the Jersey Journal publication in 2017.
In 2020 Nathan and his sister Claire started a songwriting business called Passing Notes  writing and producing personalized songs for customers and their loved ones.
Nathan also works as a freelance theatrical lighting designer. In 2014 he received a B.F.A. degree in lighting design from Purchase College, State University of New York.
For more information about Nathan's music, visit www.avakianmusic.com.
UPCOMING CONCERTS:
Be sure to check back here for updates about the remaining concerts in our 51st season.
April 10, 2021                    2 PM     Saturday at the Silents  EVENT CANCELLED
May 1, 2021                        7 PM     Mark Herman (ONLINE ONLY)
June 12, 2021                     7 PM     Artist to be announced (David Peckham and the Paragon Ragtime Orchestra postponed to future date)
June 13, 2021                     2 PM     Dick Smith – CANCELLED  
If you'd like to read our latest newsletter The Vox Humana,

click here
WHAT DO WE DO?
The Dickinson Theatre Organ Society enjoys a well-known reputation for presenting premier performances on an internationally acclaimed instrument. 2019 was our 50th Anniversary Year of bringing the finest theatre organists from the world over to concertize for the general public. You are cordially welcomed and we thank you for your support! 
Over the decades of our existence, DTOS has enhanced our Mighty Kimball Pipe Organ from the typical 1920's movie theatre instrument into a complete "unit orchestra" capable of presenting the full palette of musical expression from Popular to Classical. It is presently the fourth largest theatre pipe organ in the world. Click here to learn more.
Please click on the video below to see our special promo. Enjoy! 
---
Console News
Did you know that the Dickinson Kimball has two consoles? We have the three manual console that came with the nineteen rank organ built in 1928 for Philadelphia's Boyd Theatre and a refurbished vintage Kimball console you see presently that has been updated with state-of-the art electronic controls to play the full 66 rank configuration of the present day organ. While the Boyd console was re-built many years ago with at the time "state-of the-art" controls, it is now undergoing a complete refurbishment so we can present two-console two-organist concerts again. Click here to read a recent report about this project from our  dedicated volunteer organ crew. If you're wondering why two consoles, while it was rare, in the 1920's there were organs installed in theatres with such, not only for the "wow" factor of seeing two people play at the same time, but also for the musically extravagant performances that can result. Radio City Music Hall in New York City has such still in operation today with the largest Wurlitzer ever built for a theatre.