It is with a heavy heart that we announce the death of DTOS Founder Robert E. "Bob" Dilworth on January 19. Please click the YouTube button to see a tribute to Bob presented at Dave Wickerham's concert, January 22, Dave playing accompaniment at the Kimball. Special thanks to Carl Black and our technical team Jonathan, Brad and Eric for making this possible.

Robert E. Dilworth
December 28, 1931 – January 19, 2022
A Memorial Tribute was held July 16 at 4 p.m. in the Dickinson auditorium.  
It was a great tribute to the remarkable founder of the amazing Dickinson Theatre Organ Society. A brief service was presented with Carl Black and John Baratta on the consoles, the entire Dilworth family was present, Bob's son John spoke of interesting experiences with his father, soloists Dale Martin, Tina Sheing presented beautiful songs with Jonathan Bowen on the piano and a previously inputted performance by Peter Richard Conte had the Kimball play one of Bob's favorite pieces of music – Bach's Chorale

Come, sweet death

arranged by Virgil Fox. A Celebration Concert was then presented by Nathan Avakian and Dave Wickerham.  Profound thanks to Carl Black and all others for making this possible, from all of us in the DTOS Family of Friends.  To say Bob will be missed is a profound understatement.   
To honor Bob's decades of work on behalf of DTOS, the DTOS Board of Directors unanimously voted to name our concert presentations as:
"The Robert E. Dilworth Memorial Concert Series"
2020-2021 51st Concert Season
Due to the Coronavirus pandemic, we presented concerts online without an audience. You can view these concerts by clicking our YouTube button at the top of this page. 
53rd Concert Season 2022-2023
We have returned to in-person concerts with appropriate COVID protocols in place. The auditorium is large enough (1,100 seats) to accommodate adequate distancing for everyone, you can sit where you like, (non-reserved seating). Wearing masks is your choice.  
You're invited! Our annual Open House, September 17, 1-5 p.m.
It's your opportunity to socialize and experience the Mighty Kimball up close. 
Open console time -YOU can play – see the pipes – question and answer time – then enjoy two mini-concerts with:
Ben Forsthoffer
Ben's love of the theatre organ started at age 5 when he first heard the Wurlitzer at Radio City Music Hall. Since then he has been fortunate to mentor with many of the top concert theatre organists present today and has played for numerous theatre organ groups. His determination to be part of the performing arts is driven by his enjoyment of the theatre organ.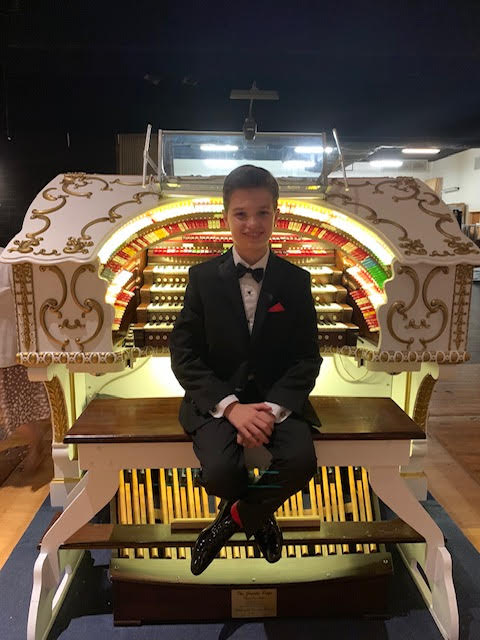 Juan Cardona
Juan began piano and organ study at the age of seven and continued musical training throughout his college career graduating with a Fine Arts degree at the University of Connecticut. He has been the House Organist for the Thomaston and Bardavon Opera Houses for over twenty years and has performed with the Boston POPS and many other prominent music venues. His DTOS appearance will include accompanying the 1921 Buster Keaton film "The Haunted House".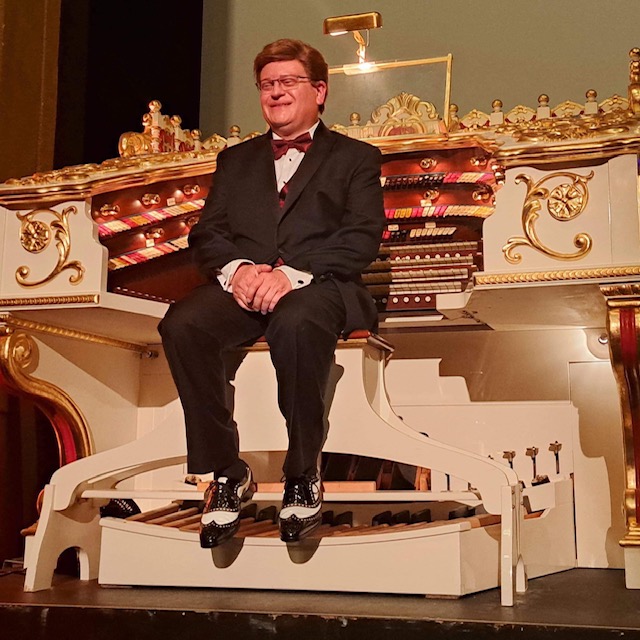 There is no admission charge for this event. 
More details of our upcoming  concert season will be published soon, check back with us, we look forward to seeing you!
Lobby doors open one hour prior
Easy access free parking
Ticketing will be available one month prior to the start of the Concert Season and can be obtained:
In advance – on line with credit card, click here (additional fee for this service).
At the door on concert night – cash, check or credit card accepted. Mail order tickets are no longer offered.
All seats unreserved – $15 for adults, $10 for under age 21. Please call 302-998-2803 if you have questions. 
To help us make all this possible, we sincerely appreciate your financial support by clicking the Donate button at the top of this page or by mail (please see details on Donate page) to P.O. Box 5094, Wilmington DE 19808. DTOS is a 501(c)(3) non-profit organization.  
For more information about DTOS and the Memorial Service and Tribute Concert for Bob Dilworth on July 16, please click
here
to view our latest newsletter
More information about the 53rd Concert Season will be published soon. Please check back!

  
WHAT DO WE DO?
The Dickinson Theatre Organ Society enjoys a well-known reputation for presenting premier performances on an internationally acclaimed instrument. 2019 was our 50th Anniversary Year of bringing the finest theatre organists from the world over to concertize for the general public. You are cordially welcomed and we thank you for your support! 
Over the decades of our existence, DTOS has enhanced our Mighty Kimball Pipe Organ from the typical 1920's movie theatre instrument into a complete "unit orchestra" capable of presenting the full palette of musical expression from Popular to Classical. It is presently the fifth largest theatre pipe organ in the world. Click here to learn more.
Please click on the video below to see our special promo. Enjoy! 
---
Console News
Did you know that the Dickinson Kimball has two consoles? We have the three manual console that came with the nineteen rank organ built in 1928 for Philadelphia's Boyd Theatre and a refurbished vintage Kimball console you see presently that has been updated with state-of-the art electronic controls to play the full 66 rank configuration of the present day organ. While the Boyd console was re-built many years ago with at the time "state-of the-art" controls, it has had a recent complete refurbishment so we can present two-console two-organist concerts again. Click here to read about this project from our  dedicated volunteer organ crew. If you're wondering why two consoles, while it was rare, in the 1920's there were organs installed in theatres with such, not only for the "wow" factor of seeing two people play at the same time, but also for the musically extravagant performances that can result. Radio City Music Hall in New York City has such still in operation today with the largest Wurlitzer built for a theatre.