2020-2021:  DTOS' 51st Season
Due to the Coronavirus pandemic and the health concerns for our audience, we are presenting our January and March concerts (without an audience) online. 
Like what you are hearing? Please consider making a virtual concert ticket donation to help defray the costs of presenting these concerts, any amount would be greatly appreciated. Click the DONATE button above. Thank you for your support! 
January 30, 2021
7 PM     VIRTUAL CONCERT featuring Tedde Gibson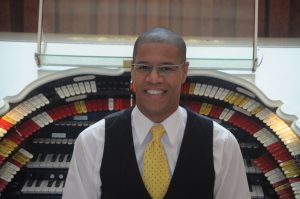 Tedde Gibson is one of a few musicians able to play not only classical and theatre pipe organ, but also jazz and gospel on the Hammond and piano. He integrates all of these styles into his playing of the theatre and classical pipe organ which for him are the ultimate vehicles to showcase his talents.
A native of Tacoma, WA, Tedde began playing piano at age four, studying with Gail Brooks and the late Dorothy Bade. He later studied pipe organ with the late Dr. Edward Hansen, president of the American Guild of Organists and organ professor at the University of Puget Sound (UPS). He also studied piano with Dr. Stephen Moore and voice with the late Dr. Thomas Goleeke at UPS. He has studied classical improvisation with David Dahl, organist emeritus of Pacific Lutheran University and Christ Episcopal Church of Tacoma, WA, and Dr. J. Melvin Butler, formerly of the University of Washington(UW) and  St. Marks Cathedral, Seattle, WA. While attending UW, he studied pipe organ with Dr. Carol Terry. Tedde has also coached with international theatre organist Jonas Nordwall of Portland, OR and the late Andy Crow of Olympia, WA.  He was organist at First Assembly of God/Life Center in Tacoma and First AME Church in Seattle. Since moving to the Metropolitan DC area in November, 2003, he has studied classical organ with international organist Dr. Mickey Thomas Terry, editor of the 8+ volume anthology of organ works by African American composers. Tedde was an organ performance major at The Peabody Institute of Johns Hopkins University in Baltimore, MD in the organ studio of Dr. John Walker.
He cut his theatre organ teeth as an organist at Pizza and Pipes in Tacoma, WA for 5 years until that restaurants' untimely demise due to fire in 1999. He played many concerts and silent films on the premier instruments of the area including the 4-manual 48-rank Wurlitzer in Harbor Manor, Gig Harbor; the Paramount Theatre, Seattle, WA; and the Mt. Baker Theatre in Bellingham, WA.
Tedde has recorded and accompanied several gospel and jazz artists including Twinkie Clark, Jennifer Holiday, Melba Moore, Edmonia Jarrett, Shawn McLemore, Twinkie Clark and Dorinda Clark-Sheard.
Tedde is organist/musician-in-residence at the First Baptist Church of Highland Park in Landover, MD (www.fbhp.org), organist at Capitol Hill Seventh-Day Adventist Church (www.capitolhillsdachurch.org), and Holy Comforter-St. Cyprian Roman Catholic Church, both in DC. He teaches general music and performing arts at Highland Park Christian Academy in Landover, MD, and teaches piano and organ privately.
Tedde performs annually on the Hardman Studio Wurlitzer located in Great Falls, VA. He is a regular at the Seattle Paramount Theatre performing on their annual "Silent Movie Mondays" series on their original Publix 1 Wurlitzer pipe organ. In addition to performing for many chapters of the American Theatre Organ Society, Tedde has performed on both the Wurlitzer and Grand Court Organ at Wanamakers/Macys in Philadelphia, PA, the Hardman Estate, the Sanfilippo Estate, Dickenson High School, and numerous theatres, schools and performance venues across the country. Tedde has produced two recordings on the Hardman Studio Wurlitzer: At Last and Let There Be Praise Volume I. He is currently finishing Let There Be Praise Volume II as well as a classical and theatre organ-styled recording on the Hardman Studio Wurlitzer.
Tedde is in his third term as vice chairman of the board of The American Theatre Organ Society (ATOS) (www.atos.org), a non-profit organization charged with preserving the theatre organ, its history and performance practices, and educating new audiences about this uniquely American instrument.
March 20, 2021
7 PM     VIRTUAL CONCERT featuring Nathan Avakian
UPCOMING CONCERTS:
Be sure to check back here for updates about the remaining concerts in our 51st season.
April 10, 2021                    2 PM     Saturday at the Silents  EVENT CANCELLED
May 1, 2021                        7 PM     Mark Herman (ONLINE ONLY)
June 12, 2021                     7 PM     David Peckham with the Paragon Ragtime Orchestra
June 13, 2021                     2 PM     Dick Smith – CANCELLED  
If you'd like to read our latest newsletter The Vox Humana,

click here
WHAT DO WE DO?
The Dickinson Theatre Organ Society enjoys a well-known reputation for presenting premier performances on an internationally acclaimed instrument. 2019 was our 50th Anniversary Year of bringing the finest theatre organists from the world over to concertize for the general public. You are cordially welcomed and we thank you for your support! 
Over the decades of our existence, DTOS has enhanced our Mighty Kimball Pipe Organ from the typical 1920's movie theatre instrument into a complete "unit orchestra" capable of presenting the full palette of musical expression from Popular to Classical. It is presently the fourth largest theatre pipe organ in the world. Click here to learn more.
Please click on the video below to see our special promo. Enjoy! 
---
Console News
Did you know that the Dickinson Kimball has two consoles? We have the three manual console that came with the nineteen rank organ built in 1928 for Philadelphia's Boyd Theatre and a refurbished vintage Kimball console you see presently that has been updated with state-of-the art electronic controls to play the full 66 rank configuration of the present day organ. While the Boyd console was re-built many years ago with at the time "state-of the-art" controls, it is now undergoing a complete refurbishment so we can present two-console two-organist concerts again. Click here to read a recent report about this project from our  dedicated volunteer organ crew. If you're wondering why two consoles, while it was rare, in the 1920's there were organs installed in theatres with such, not only for the "wow" factor of seeing two people play at the same time, but also for the musically extravagant performances that can result. Radio City Music Hall in New York City has such still in operation today with the largest Wurlitzer ever built for a theatre.